West Shore Community College Catalog 2021-2022
[ARCHIVED CATALOG]
Science & Mathematics
---

Return to: Programs of Study by Pathway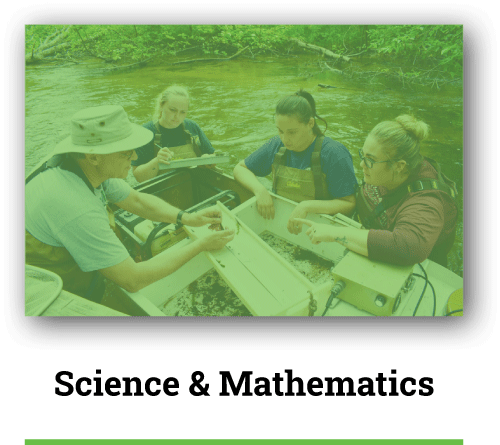 As a leading college of science in Michigan states, "The world has entered a new and exciting era of scientific understanding that has taken concepts like genetic engineering, nanoscience and biotechnology out of the realm of science fiction and into everyday life." New applications of science will continue to have profound effects. Thus, graduates with training in any of the biological, mathematical, or physical sciences offered by WSCC are able to transfer to a four year institution, complete a bachelor's degree, and find new employment opportunities with industries on the cutting edge of high technology, as well as in teaching, communications, environmental fields, health, and many other areas.
Pathway Advisor:
Joe Grochowski, jrgrochowski@westshore.edu or schedule an appointment at https://calendly.com/jrgrochowski.
Faculty Mentors:
Dr. Sonja Siewert - Chemistry, Geology
Dr. Michael McKinney - Anatomy & Physiology, Microbiology
Paul Drelles - Mathematics
Wade James - Mathematics
Joseph Grochowski - Physics, Engineering
Dr. Paul Bilinski - Biology, Botany
*For Agricultural programs, see the Business Pathway .
Programs
WSCC Degree PathwaysTransfer Programs

Return to: Programs of Study by Pathway
---